Ahmedabad is a city that needs to be explored with love, patience and time. However, sometimes we have all the love and patience but not enough time and have just a day to visit some of the landmark sites of the city. You can take a 1 Day Ahmedabad City Tour Package organised by Ahmedabad Tourism, a division of Holidays DNA, to see some handpicked places that will give you a picture of the rich history of this city.
This itinerary has places to visit in Ahmedabad that can be covered in a short duration and are in close vicinity to each other. Taking a one-day cab tour not only gives you a chance to visit all the important places but also gives you a glimpse of the entire city as you travel from one location to the other.
Booking a One day Ahmedabad Tour in advance lets you know your schedule for the day and saves you the hassle of deciding what to see and what not to see in a single day. For those who wish to customise their tour, you can discuss with the tour operators who will organise the tour according to your preferences.
Overview of 1 Day Ahmedabad City Tour Package by Cab
The 1 day Ahmedabad City Tour will cover sightseeing places that are symbolic of the rich culture, heritage and historical past of the city. Right from temples, mosques, and forts to lake, the trip will enthrall you and keep you excited for every leg of the tour.
Start your day with a visit to Teen Darwaza and Bhadra Fort which are among the most popular Landmarks of the city not just for their architecture but also for the snippets of history attached to them. The next stop will be Jama Masjid, a mosque which is a revered place of worship and houses the tombs of Ahmed Shah I and his family.
Very close to Jama Masjid is Rani no Hajiro which will be the next stop and is also a tomb for the queen and female members of Ahmad Shah I. Sidi Sayyed Mosque which is a picture of architectural excellence is a place where you can click a lot of pictures.
This will be followed next by a visit to the Hindu temple, the Swaminarayan Temple. This temple is not very old as compared to other monuments and sightseeing places on this list but it is known for its beauty and is flocked by a large number of devotees every day.
Moving on further, Sarkhej Roza will be the next stop where you can admire the finesse of the carvings on the jharokhas and the walls. Jhulta Minar and Adalaj stepwell will be covered next and you will feel the adrenaline surge at these places with the aura of mystique around them.
The grand finale to your adventurous day will be marked by a visit to Kankaria Lake where you will find a lot of eating joints, water activities, and a laser show. Head over for dinner at Manek Chowk for some mouth-watering delicacies.
List of Most Popular Places to Visit with Ahmedabad City Tour Packages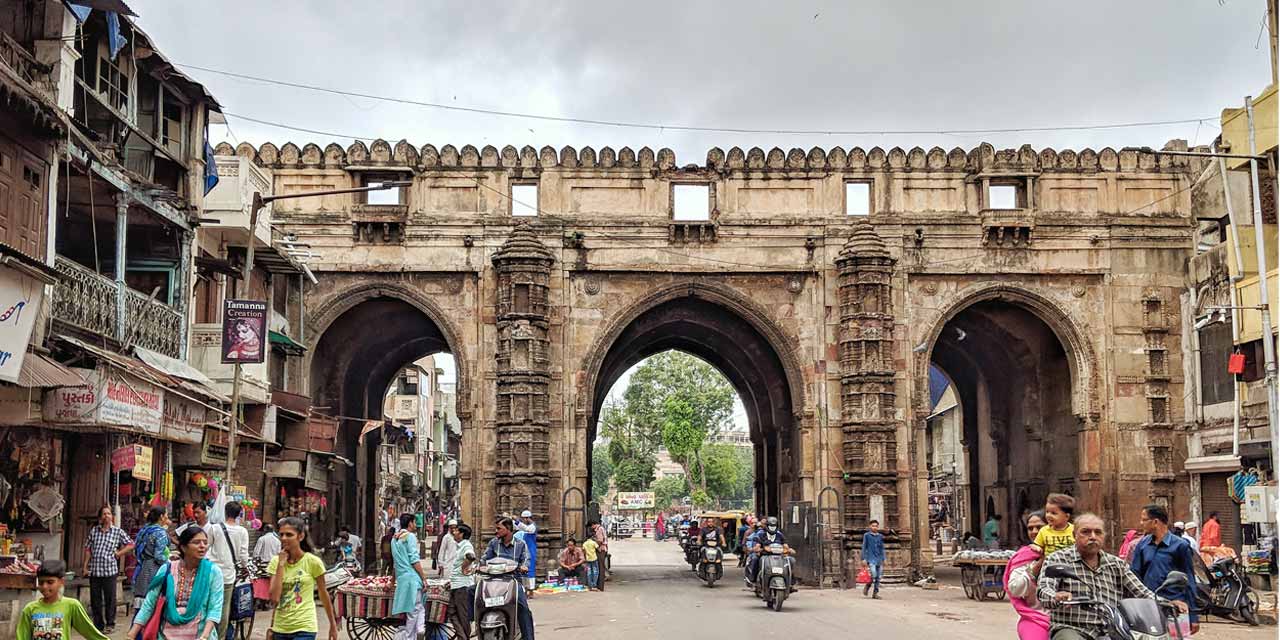 Teen Darwaza is on the east side of Bhadra Fort and has three huge doorways with intricately carved pillars. You can see this place on your way to Bhadra Fort which is a palace dating to the 14th century. It is said that the king Jahangir used to traverse around Teen Darwaza to watch the procession from Teen Darwaza to Jama Masjid.
Entry Timings: 9 AM to 9 PM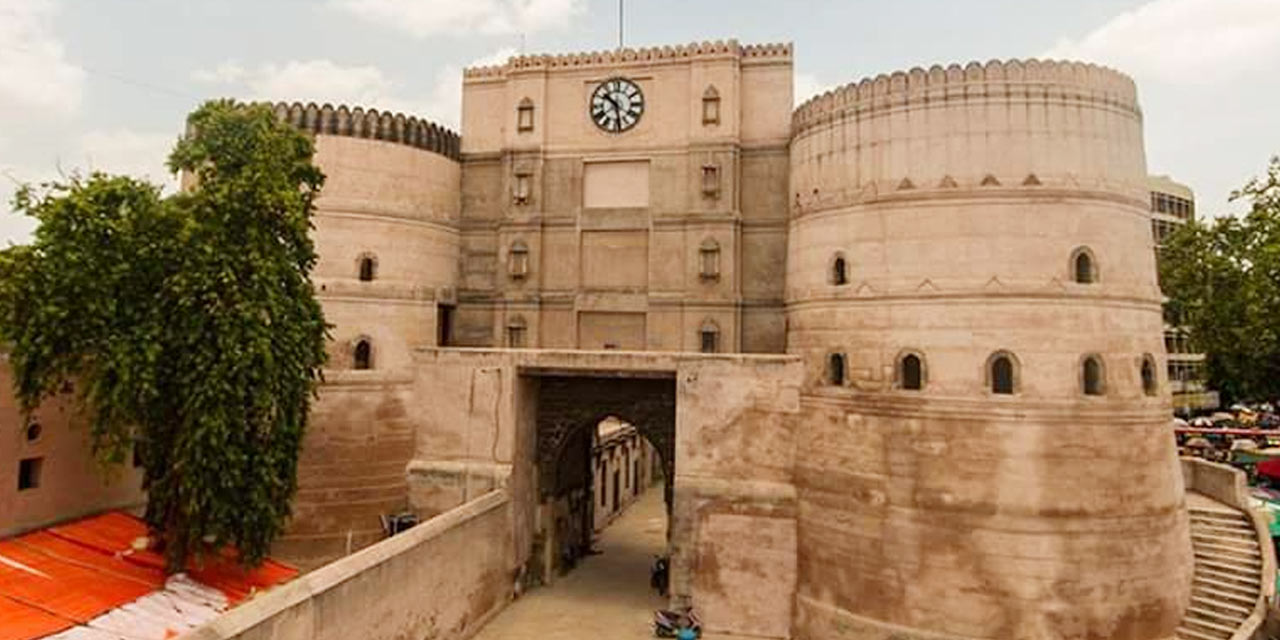 Built by Ahmed Shah in 1411 AD, the fort derives its name from the temple of Bhadrakali in its premises and it is believed that there are hidden caches of treasure still buried deep in the fort. The fort is an architectural wonder with fourteen towers or minars, eight gates and two large openings.
Entry Timings: 9 AM to 5 PM. The mosque doors are closed for visitors during prayer.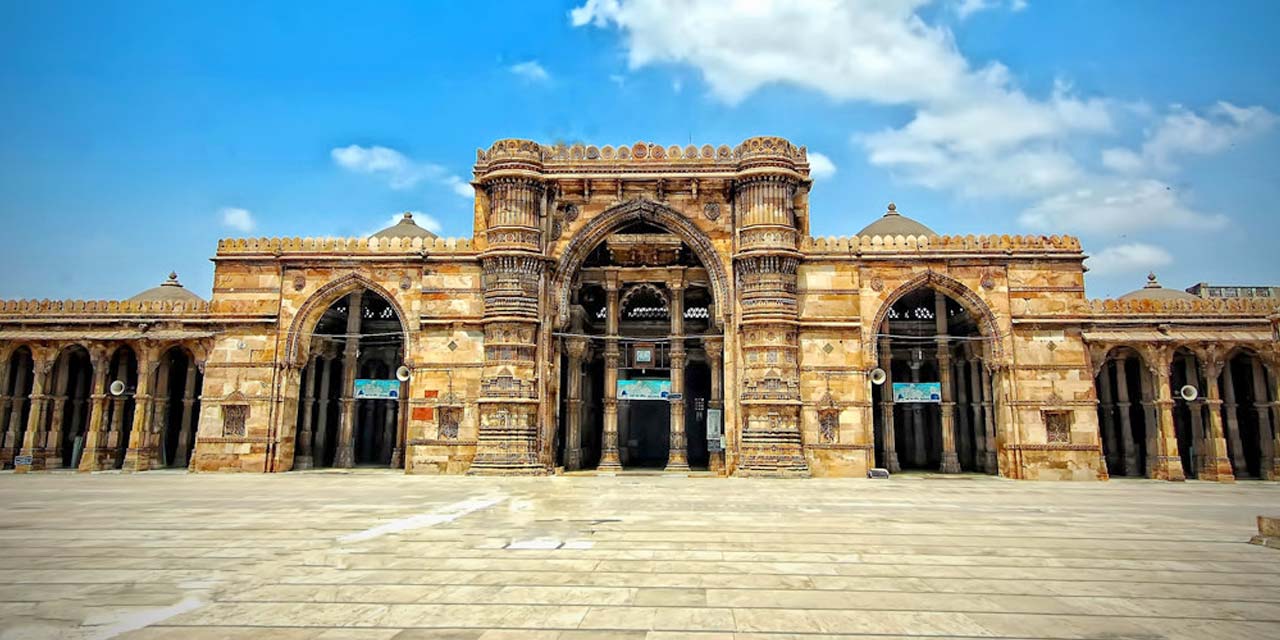 This spectacular mosque is located close to Bhadra Fort and is one of the architectural wonders of the city. It was built by Sultan Ahmed Shah I in 1424 and showcases a seamless blend of Hindu and Mughal styles of architecture in its yellow sandstone structure. The mosque was constructed as a private shrine to the Sultans and took about 13 years to reach completion. What's interesting to note is that the mosque was built out of stones and rubble rescued from demolished Hindu and Jain temples.
Entry Timings: 6 AM to 8 PM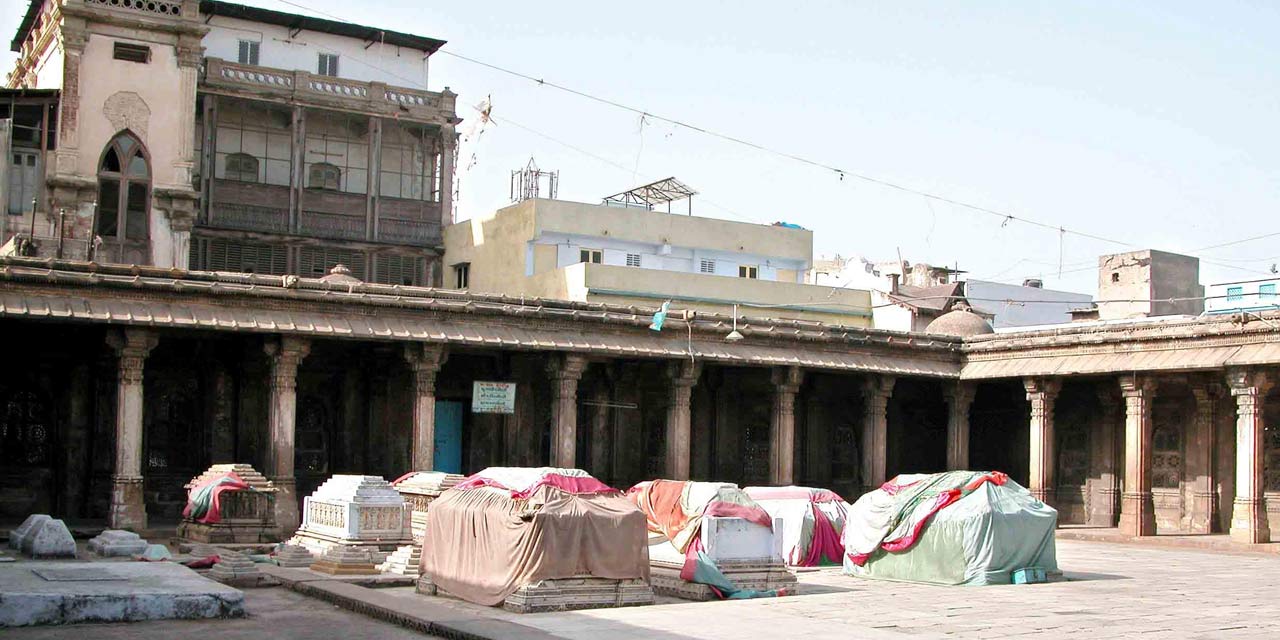 This is the tomb for the female family members of Ahmad Shah I and was built in the 15th century. There are eight tombs in this complex and they are carved with intricate handiwork and inlaid with mother-of-pearl and metalwork. They are covered with rich brocade fabrics which adds a charm to these ruins.
This complex is surrounded by a market now which is known for selling some of the best garba dresses and mouth freshener in the city. It is located near Manek Chowk which is another famous market area of Ahmedabad.
Entry Timings: 6 AM to 8 PM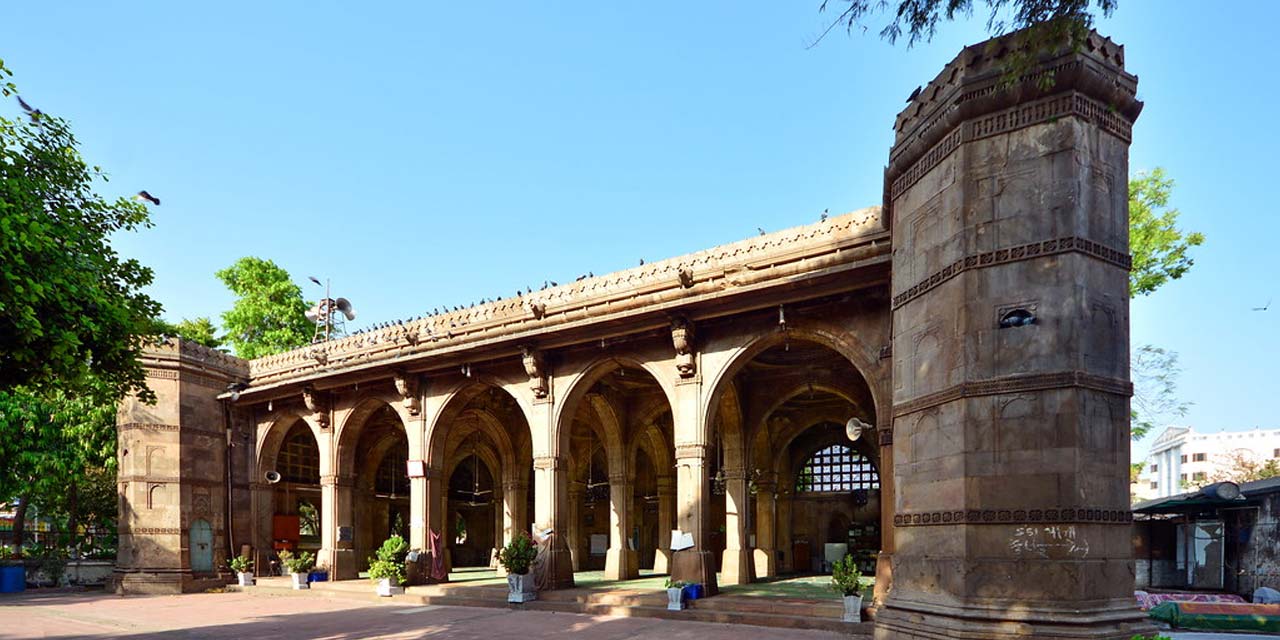 A lot of historical monuments in Ahmedabad were built during the 14th and 15th centuries when Ahmedabad was under the aegis of Ahmad Shah I who was the founder of the city. One such site is the Sidi Sayyed Mosque which looks straight out of coffee table book on architectural wonders.
Sidi Sayyed Mosque is known for its windows that are made up of exquisite jali or latticework. The place is a haven for photographers who try and capture the beauty of this place through their lens. The stones of this mosque are covered with a delicate pattern of intertwined trees and palm images.
Entry Timings: 7 AM to 6 PM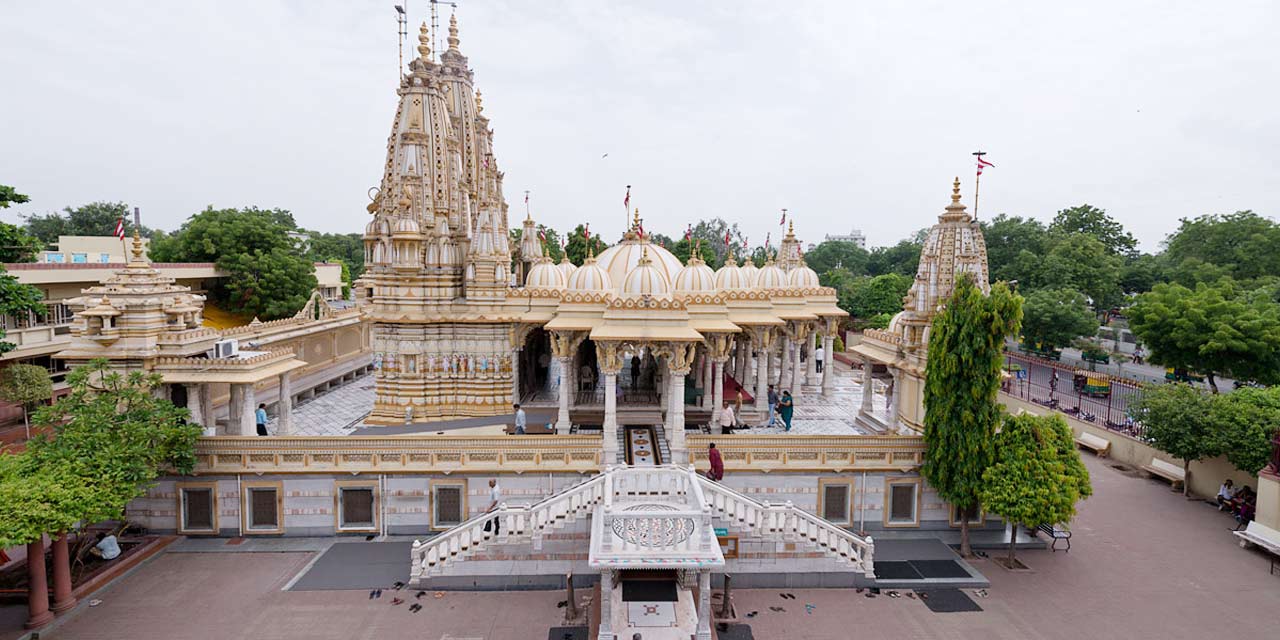 This is one of the first Swaminarayan temples built in India and is one of the grandest. The temple pays homage to Narayan Dev and is visited by devotees and tourists alike. It is also known as the Akshardham temple and while gorgeous chandeliers and mirror work inside the temple are breathtaking the outside of the temple is covered with intricate carvings.
Entry Timings: 6 AM to 7 PM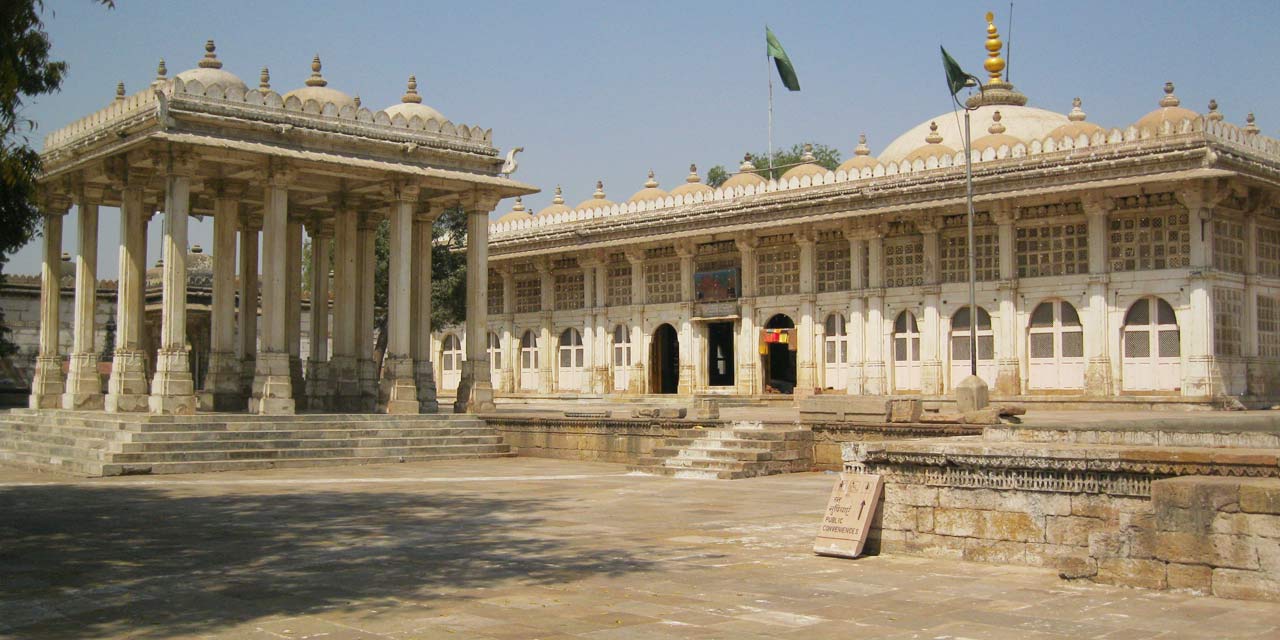 This is a tomb and a mosque and is located in the Makarba area of Ahmedabad. The architectural finesse of this mosque made French architect Le Corbusier compare it to the Acropolis of Athens. The Persian influence can easily be seen in the design and structure of this mosque. The mosque is in the vicinity of Sarkhej Lake which can be added to your list when visiting this mosque.
Entry Timings: 9 AM to 6 PM
A mystery that remains unsolved and intrigues historians and scientists alike is that if one of the minarets is shaken, the other minarets start shaking too within a gap of a few seconds. It is even more surprising as there are no vibrations between the connecting passages. Another striking feature of this monument is its architecture which clearly shows shades of Mughal art.
Entry Timings: 5.30 AM to 9 PM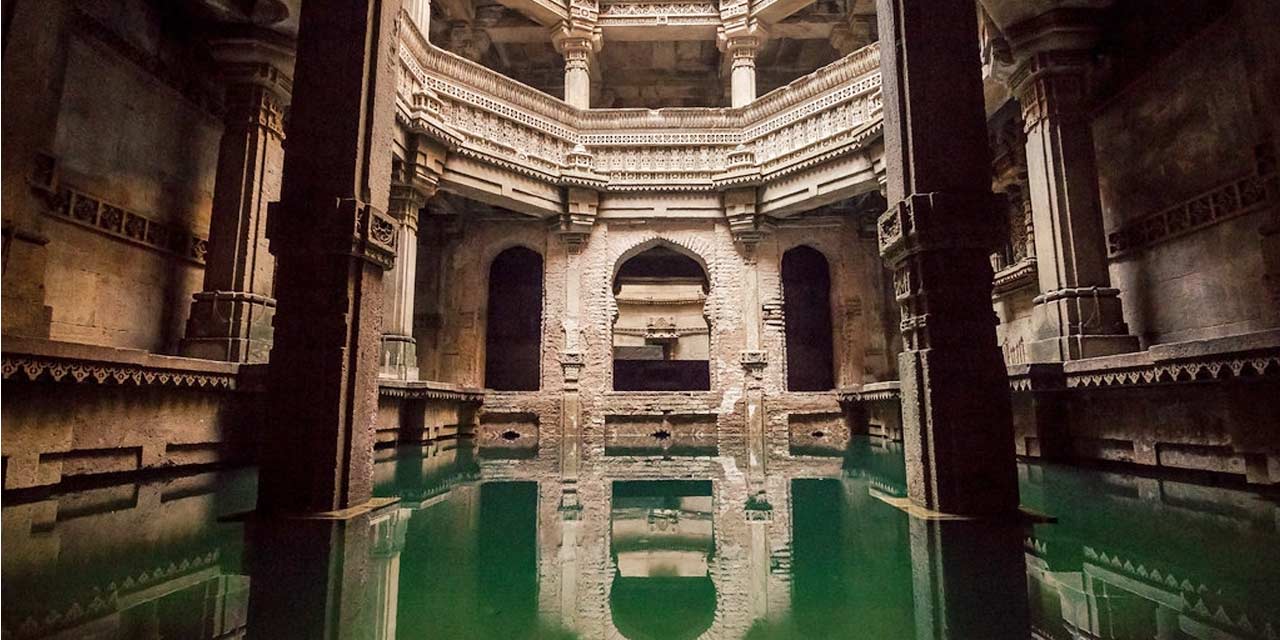 Hidden in the small lanes of Ahmedabad is this gemstone that is not only magnificent when it comes to architecture but is a symbol of efficient city planning deployed in the 14th century. There are step-wells in Gujarat which were used to store water and to provide respite and shelter to travelers. The stepwells have dried up now but their grandeur is still intact.
Soak in the sense of calm and soothing air that welcomes you when you enter this stepwell which has vents at every floor to allow in the fresh air. It is a seven-storied stepwell and every floor is replete with intricate carving on the balcony railings and pillars.
Entry Timings: 6 AM to 6 PM
You cannot leave Ahmedabad without a stroll at this lake which is a favorite among the people of the city for enjoying an evening. There is so much to do at this lake that you will fall short of time when here. Nagina Wadi is a garden-themed restaurant at this lake and is perfect for a dinner with friends or family.
If you are a street food fan, you will find several stalls or laris as they are called in Gujarat, dishing out mouth-watering Gujarati street food. Kankaria Lake also has some water sports that you can indulge in like boat rides and jet skiing. Every evening a laser light and fountain show takes place at the lake and you can end your day in Ahmedabad with it.
Entry Timings: 4 AM to 10 PM (Closed on Mondays)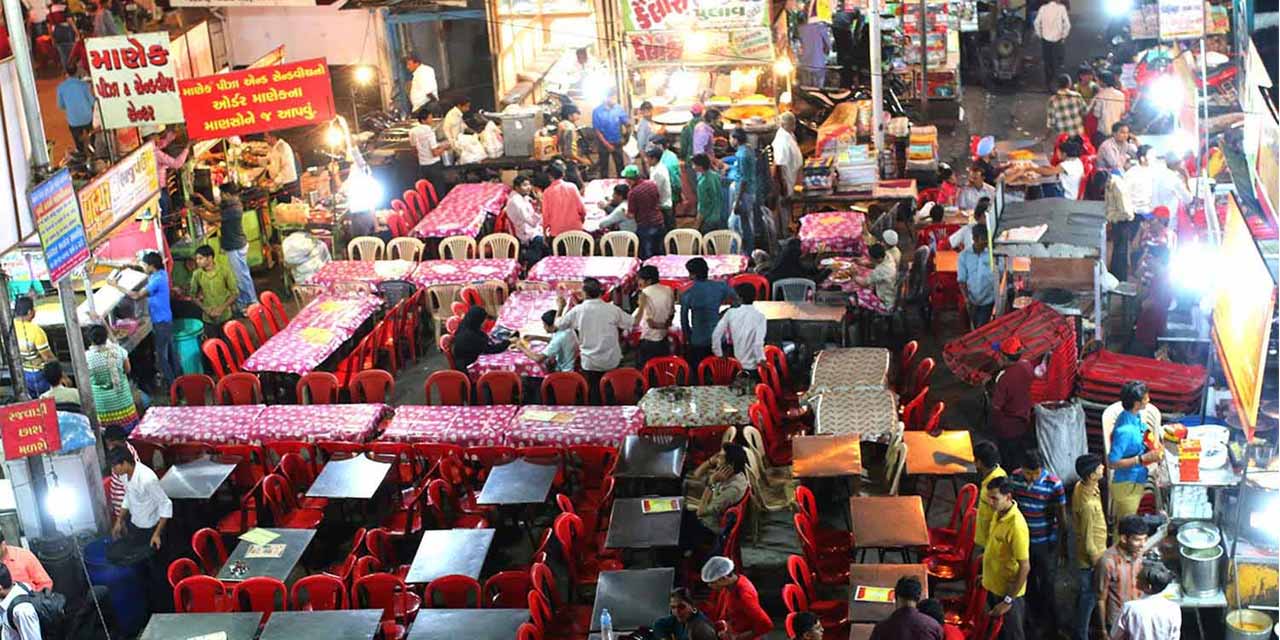 You can head over to Manek Chowk for a late-night dinner for some sinful indulgence. This place is known for its amazing street food like chocolate sandwich, Gwalior dosa, pav bhaji, and before we forget to mention it: Asharfi kulfi which will culminate your day on a high and sweet note!
How to Reach Ahmedabad
Ahmedabad is well connected to all major cities through a well-organized rail network and a bus network for nearby cities. Sardar Vallabhbhai Patel Airport is a domestic as well International airport with regular flights to almost all airports in the country and across the globe.
You can also check the given list of top car rental companies in Ahmedabad if you wish to commute within the city in the comfort of a private cab.
You can also visit the Ahmedabad Tour packages page for all inclusive tour packages which include Hotel, sightseeing and cab facilities for your entire tour duration. Feel free to fill the Contact Us form and we will get back to you at the earliest.